Press Release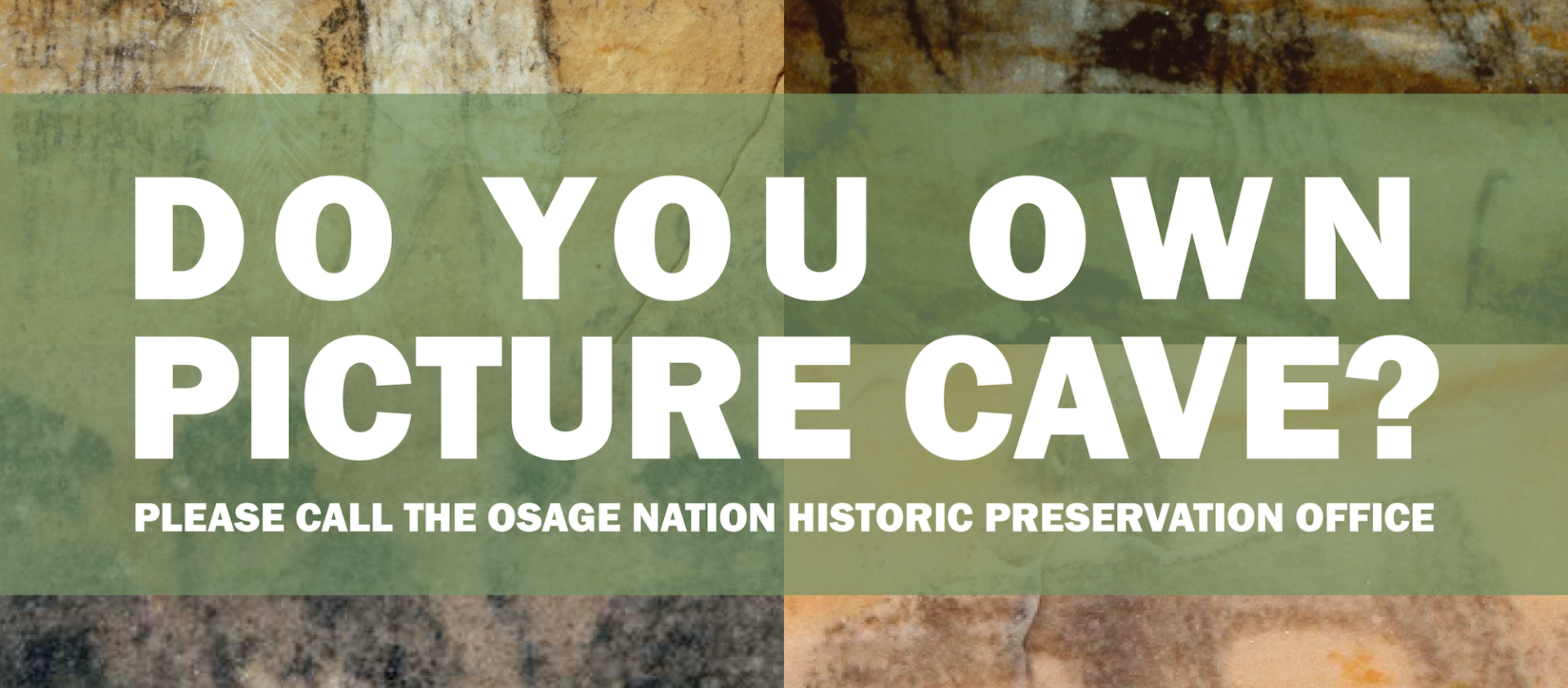 (May 5, 2022) - On Wednesday, May 4, the National Trust for Historic Preservation named Picture Cave to the 2021 list of America's 11-Most Endangered Historic Places.
"Picture Cave is an enduring link between the Osage people and the land they were forced to leave over two hundred years ago. The new owner of this sacred place has an opportunity to demonstrate respect for the Osage people's historic and spiritual connection to Picture Cave by coming forward in the spirit of cooperation and working with the Tribe on a plan for preservation of the site." stated Katherine Malone-France, chief preservation officer for the National Trust for Historic Preservation.
Considered one of the most sacred and important links to the lifeways of Osage ancestors in Missouri, Picture Cave contains hundreds of pictographs dating from the Late Woodland and Mississippian periods of Osage history. The state of Missouri was the homeland of the Osage people for 1300 years, from A.D. 500 to 1825 when the United States government forcefully removed the Osage to a reservation in southern Kansas, then later to a reservation in Oklahoma.  The lands surrounding Picture Cave contain the burials of thousands of Osage ancestors and some of the most sacred Osage locations. After that forced removal, the Osage people were cut off from their sacred sites and burials. Despite that, the Osage have resiliently endured over one hundred years of oppression and attempts at cultural annihilation. Though the Osage Nation attempted to buy the land containing Picture Cave in 2021, the property was sold to an anonymous buyer who has not communicated with the Osage Nation despite attempts at outreach. Dr. Andrea Hunter, Tribal Historic Preservation Officer for the Osage Nation, called the sale "heartbreaking." 
It is unknown what the owner's intentions for the site might be. The Osage Nation is concerned that the new owner may physically modify the site, remove the pictographs, or not grant access to the Osage people. Osage Nation leaders hope to encourage the new owner to work with the Tribe to protect and respect this sacred place.